About us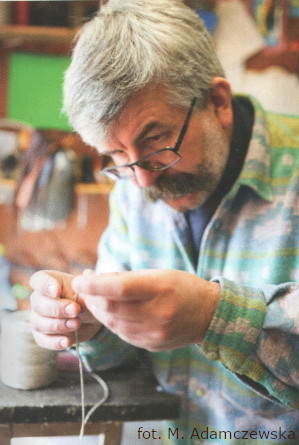 The "Jednorozec-Unicornis Handicrafts Workshop" was founded in 1989. It was when Robert Niemiec - a student of Polish studies, philosophy and religious studies at the Jagiellonian University in Krakow - became interested in macrame and began to create the first products. By investing more and more time and passion in his project, he opened, together with his wife Joanna, a handicraft workshop using macrame technology in footwear.
To meet the clients' needs, the Workshop is constantly expanding its range. In addition to footwear, it offers macrame trousers stramps, flat caps (casquette) with leather visors and jewelry with natural stones. What's more, a few years ago the Workshop opened a special section dedicated to leather products. Customers looking for unique and solid leather handbags (as well as straps), made entirely by hand, will find here everything to make theirs dreams come true.
Robert Niemiec is a member of the Ecological Association of Creative Communities EKOART. He has received numerous awards, including these at the St. Dominic's Fair in Gdańsk , Cepeliada in Kraków or Beskid Culture Week in Wisła. His works are presented during handicraft events in many cities (e.g. Warsaw, Krakow, Gdańsk, Płock), and satisfied clients become ambassadors of our brand not only in Poland, but also in various parts of the world (e.g. in Austria, France, Canada, Russia and South Africa).